Get the Best out of Your Work Space
A perfect workplace is one that dynamically adapts to the changing needs of its occupants. IoT in the office – for increased wellbeing and productivity.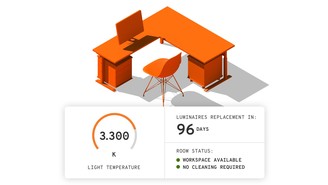 The Office Challenge
In today's crowded cities, office space is sacred and expansive. At the same time, the office location and layout is a differentiating factor in talent acquisition and employee retention, with a significant and growing relevance. Hence considerable time and money usually go into selecting the office location, building, and equipment. However, once the office is established renters are left with little transparency on their office performance in real life conditions.
The VISN Solution
VISN brings transparency to your workplace, so you can make better decisions on how to manage the space at your disposal. VISN identifies the real time availability and utilization of work spaces and analyzes your data in order to reduce operational expenses and create a more satisfying work experience.
Space Finding
Help employees save precious time through finding available work space within seconds.
Cost Optimization
Reduce rent expenses by optimizing workspace utilization with exact analytics.
Building Insights
Gain insights into usage rates of your buildings and reduce operating costs.
The Technical Realization
VISN is a complete end-to-end IoT solution leveraging LIGHTELLIGENCE® as the IoT backbone. Here's how it works in more detail:
Smart sensors featuring an advanced algorithm collect and process the room occupancy data in real time. Raw data never leaves the room.  
Via an edge gateway, sensors are easily sent to the platform.
LIGHTELLIGENCE® collects and structures data and supplies it to the application.
The VISN web-application provides insights on the data (using LIGHTELLIGENCE® software features for analytics)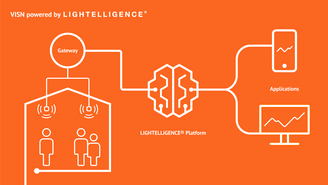 Did You Find All Information?
You are missing a piece of information, have an LIGHTELLIGENCE® idea that you would like to spar or any feedback you want to share?