It's a Matter of Growth
The Internet of Things has enormous potential for increased productivity and sustainability in food and pharmaceuticals production.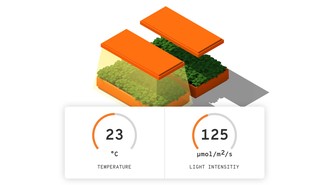 The Food Challenge
Megatrends such as ongoing urbanization and neo-ecology will lead to a shortage of agriculture cropland and increasing prices for arable land. To feed the world of tomorrow, new concepts are needed – and they are needed soon. 
The OSRAM Urban Digital Farming Solution
IoT will be a key element of the smart farm of the future: a farm that is fully automized and equipped with state-of-the-art sensors and individual lighting control. Plants will be treated individually regarding size, taste, and color with the help of artificial intelligence.
OSRAM has created an IoT solution that allows optimization of plant growth in smart farms. The solution combines plant status data with environmental data to derive and deploy light recipes influencing plant growth in accordance with the grower's objectives.
Growth Acceleration
Optimize plant growth in accordance with your demand through light recipes.
Operation Insights
Optimize your farm operations by combining your experience with data analytics.
Taste Boost
Provide your customers with a product of unprecedented level of taste and quality experience.
The Technical Realization
The smart farming solution is a complete end-to-end IoT solution leveraging LIGHTELLIGENCE® as IoT backbone. Here's how it works in more detail:
Real time plant status data is collected by environmental and optical sensors
Via an edge gateway, sensors and intelligent lighting control are connected to the platform
LIGHTELLIGENCE® collects data and calculates AI-driven light blends
The Smart Farming App provides insights on the current status of the plant, canopy and farm (using LIGHTELLIGENCE® features for analytics and dashboarding)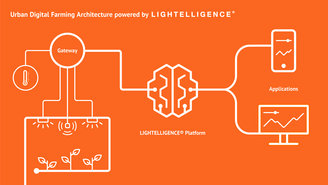 Did You Find All Information?
You are missing a piece of information, have an LIGHTELLIGENCE® idea that you would like to spar or any feedback you want to share?